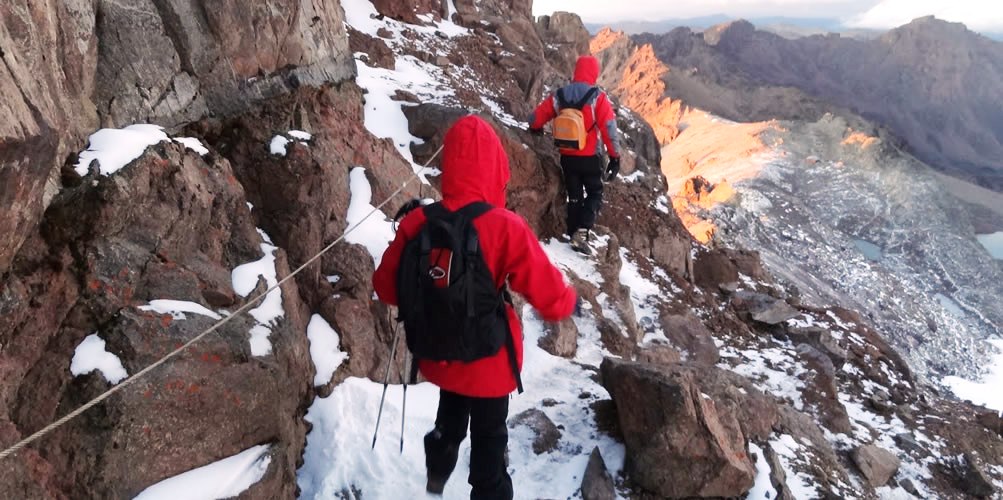 1 Day Mount Kenya Hiking Trip
Pick up from your Nairobi hotel for the drive to Mt Kenya (Mount Kenya day tour starts from Sweetwaters, Treetops or Serena Mountain Lodge or from Nairobi hotel) at 0600 Hours and drive the Naro Moru Track (altitude 3,000m.) From here your trek begins with your experienced guide setting a leisurely and relaxing pace trekking up the mountain.
At about 3,600m  you'll stop for a picnic lunch and then continue your stroll to the crest of the ridge at 4,000m. Here you'll have a great view of the main peaks as well as the Teleki Valley. Afterwards, you'll be encouraged to make a fairly brisk descent to the met. Station and then back to the gate for transport back to hotel/Lodge in time for dinner (you should be back at the lodge at around 5pm).
Please be advised that the following items could be useful to you: water bottle, rain park, light wool sweater and a pack for the camera and other gear.
MT KENYA 1 DAY HIKE SAFARI ITINERARY
6:00am: Depart Nairobi for Mt Kenya National Park 1 Day Hike
9:00am: Arrive at the Mt Kenya National Park Naro Moru Gate for the start of the Day hike.
10:00am: Continue with the rain forest hike up the mountain with a guide to see the birds and animals in the forest
12:00pm: Climb to the Met Station through to the bamboo forest and start your way back to the gate.
2:00pm: Arrive back at the Naro Moru gate at the end of the trekking trail head. This is the end of Mt Kenya national park day hike. Enjoy a packed lunch at the park gate and start off for Nairobi after the tour.
5:00pm: Arrive in Nairobi and drop off in your Nairobi hotel.
Cost per person: Available on request
THE TOUR COST INCLUDES:
Park entrance fees
Transport in a safari minivan
Services of a driver guide
Packed Picnic Lunch
Pick up and drop off at Nairobi hotel
Bottled Drinking water
WHAT YOU NEED TO CARRY;
Good pair of walking boots
Walking sticks-an adjustable sprung loaded stick is best
Camera, binocular and sunscreen cream
Rucksack (large enough to carry consumables such as enough drinking water and snacks to eat during the climb)
Pair of woolen socks
NOTE;
This entire hike is over rough ground and some places have steep slopes and is not without danger
Don't underestimate dehydration, drink enough water at the end of each section and as required
The ranger's advice on all matter including your rate of progress should always be listened
---
Enquiries and Bookings
Related Tours